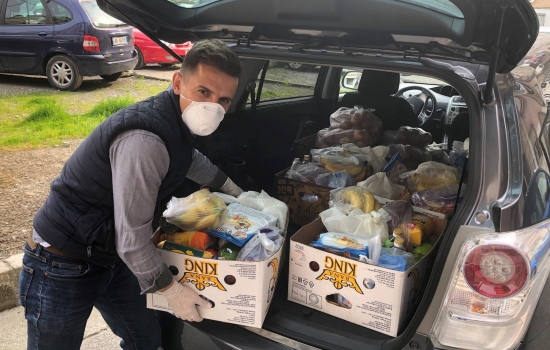 05.04.2020
Leo serves as a worship leader at a church in Albania. When Albania enforced a lockdown, the church could no longer meet, and Leo lost his income. His father also lost his job, and his mother could no longer work because of the quarantine. Desperate for food, Leo reached out to Toni, his pastor.
Toni (pictured above) is an international partner with TMS Global, serving in his homeland of Albania. Toni planted Impact Tirana church to spread the love and message of Jesus in the community.
Since the COVID-19 pandemic has left many of his neighbors without income, Toni collected boxes of food and delivered them to residents. Other TMS Global cross-cultural workers are also bringing food to their neighbors.
"Even though we cannot meet as a church right now," said Toni, "there are so many ways we can be the church and shine the light of the gospel by caring for people in need."
Please send a gift today to help us quickly raise the necessary funds to provide food for families in vulnerable communities who have been hardest hit by a loss of income. You can help cross-cultural workers, like those in Albania, Peru, South Asia, and Southeast Asia, who are delivering boxes of food to their neighbors.
This is an urgent need. Your gift today of $25, $50, or any amount, will provide food for a family for a week.
Thank you for being the hands and feet of Jesus to your neighbors in developing communities. We are so thankful to be in ministry with you!