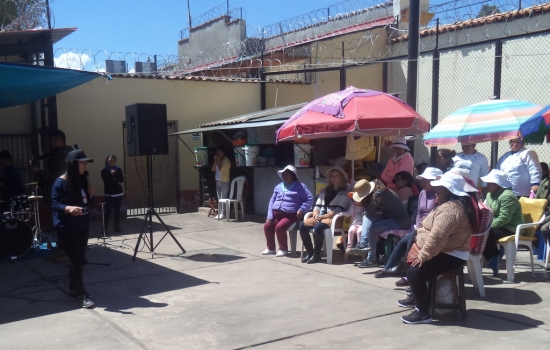 01.22.2019
Suffering from undiagnosed schizophrenia in a rural area of Peru, Mercedes felt helpless. She and her husband had a young daughter, and Mercedes had just given birth to their second child. A schizophrenic episode caused her to believe that a nurse was going to harm her child, and Mercedes killed her newborn baby.
Mercedes was sent to prison and continued to from suffer schizophrenic episodes, as well as from postpartum depression for several years. Jennifer Goshorn, a TMS Global cross-cultural worker in Peru, leads a weekly Bible study in the women's prison.
Three years ago, Mercedes joined the Bible study and surrendered her life to Christ. She reads her Bible regularly and participates in the group discussions. She has not had a schizophrenic episode since she began to follow Jesus.
Jennifer walks with the women as they struggle with life behind bars. "All of the women desperately miss and worry about their children," said Jennifer. "I focus on studies that will encourage them and give them a sense of worth and assurance that they are loved and forgiven through Jesus Christ."
Jennifer recently coordinated a Christian concert inside the prison. A youth and young adult band from a church in Huancayo was allowed to play for the inmates. A Peruvian pastor's wife, Olga, and another church member, Estefani, gave talks on salvation through Christ and finding healthy self-worth.
Eight of the women in attendance gave their lives to Jesus or asked to learn more about Him. Olga, Estefani, and Jennifer prayed with the women and led them to accept Jesus as Lord of their lives. Since then, five of the women have begun to attend Jennifer's Bible study.
"The women are in prison for prostitution, drug running, murder, embezzlement, and other crimes," said Jennifer. "I have seen a dramatic change in some of them as we have met together each week and studied Scripture."
Mercedes' six-year-old daughter recently had a birthday. Mercedes asked Jennifer if she would buy a doll that Mercedes could give to her daughter. "I gave the doll to Mercedes after class and she hugged me and held on for a long time," said Jennifer. "I am so blessed to be able to witness Jesus working in the lives of these women."
To explore serving in Peru, or the other 33 countries in which we work, complete a short interest form. A mobilization coach will be in touch with you. We can help you find your place in cross-cultural ministry.