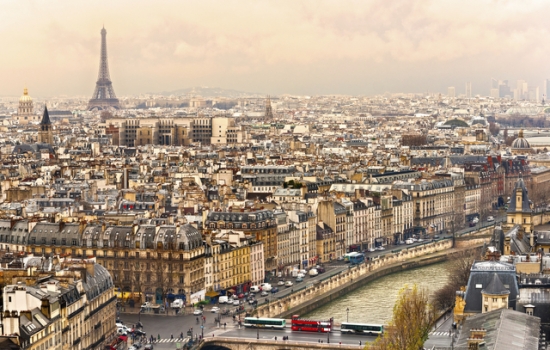 01.19.2017
When our family moved to France to serve as missionaries 14 years ago, things did not go as we expected.
The French people see going to church as weak and socially unacceptable. Because we were identified as missionaries, no one wanted anything to do with us. People's perception was that "missions" was only for assisting third-world countries. The fact that we were there as missionaries to serve the French people was highly offensive to them. It was a hard time for us, and we knew there had to be a better way.
While in France, we met a young American man who worked for one of the large oil companies. He was in France for work, but, because he was a Christian, he was living his life as a missionary. He led Bible studies, built relationships, had discussions of faith, and worked with French youth. He was doing everything we dreamed of doing!
At the same time, we heard about the tentmaking strategy to enter countries closed to the gospel. We thought this approach may work in France as well. While home on furlough, our family spent time learning about tentmaking. Tentmaking refers to missionaries who choose to have a job in their location of service, in addition to dedicating him or herself to ministry. We knew we needed to return to France, but this time we needed respected jobs in the community.
We were in the US for nine years before God made our dream of living as tentmakers in France a reality. Friends of ours bought a 400-year-old property in France and asked us to live there and manage it. We decided to turn it into a bed and breakfast and received permission from the French government to live and work in France.
When we moved back to France, we had no idea what we were doing. The heaviest thing I was used to lifting was my coffee cup. I didn't know anything about yard maintenance and did not really enjoy cutting the grass. My wife did not know how to cook a gourmet, French five-course dinner or clean a mansion.
During the past 14 years we have learned a lot. We now have hundreds of people passing through the B&B each year. My wife prepares gourmet meals nightly for our guests. I can now manage the acreage and quite enjoy using a chainsaw.
We have built relationships with people in our community and are actively engaged in a house church. We participate in area art and music groups, and regularly meet atheists with whom we can share Christ. We minister to people from all over the world, and particularly to missionaries who travel here for rest from difficult ministry assignments.
None of this would have been possible if we had not been open to more non-traditional missionary roles. We thank God for leading us to France, and for opening a path through which we could be seen as regular participants in the society. His kingdom has been expanded, and we have been blessed as well.
Names not used for security purposes.