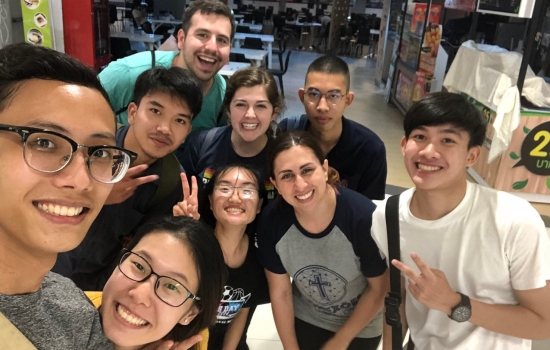 01.15.2019
Brooke grew up in Louisville, Kentucky, and knew she wanted to serve overseas from an early age. She attended the University of Kentucky where she earned degrees in psychology and theatre, with a minor in Spanish.
The summer before her senior year, Brooke participated in TMS Global's GreenLight program, a mission immersion experience. Brooke's team spent five weeks in Thailand. The team divided their time between the city of Bangkok, where they learned about ministry to victims of sex trafficking; and the suburbs of Roi Et, which is the poorest province in the region. TMS Global workers in each location guided the team, showing them their particular ministries and discussing what cross-cultural life is like.
"My GreenLight experience was pivotal in my decision to serve in Thailand," said Brooke. "Our team shadowed a family of cross-cultural workers, which helped us to better understand what the day-to-day life of a worker would look like. We were encouraged to get out of our comfort zones and try lots of new things, but also to take the time to be silent and listen to what God was saying to us. GreenLight gave me the space to start dealing with some of the fears and reservations that were holding me back from saying 'yes' to cross-cultural ministry."
After graduating from the University of Kentucky, Brooke attended TMS Global's training programs and raised support.
"One night, it all hit me. I sat on the floor and broke down. The weight of my upcoming transition momentarily eclipsed my passion, calling, and excitement," said Brooke. "Suddenly everything seemed like too much. I was way behind my support-raising goal, I was struggling with the thought of leaving loved ones behind, and I was overwhelmed and frustrated by all God was asking me to do.
"God met me there. I felt His arms around me as I processed the overwhelming emotions of this journey. His love gently broke through the walls of busyness, self-sufficiency, and fear that I'd built around my heart."
Last October, Brooke landed in Bangkok and immersed herself in her new culture. She is attending language training, participating in several college ministries, and getting to better understand the Thai culture.
"It can be difficult to be a 'farang'—the Thai word for 'foreigner,'" said Brooke. "I stand out everywhere I go. But God is quick to remind me of how He sent His only son, Jesus, to live as a foreigner among the people of the earth. By some definitions, Jesus was a farang. Everyone knew He was different because of the way He loved."
Brooke will finish language school soon and relocate to Roi Et to serve with a TMS Global team there. She will teach English at a welfare school, help with a youth group, and share the gospel with Thai youth.
"My prayer is that the wonderful Thai people will always see me as different—not because of my skin color or my accent, but because of the way that I love and the presence of Jesus within me. May my differentness open up doors for meaningful conversations and friendships."
Next steps:
Pray for Brooke as she adjusts to life and ministry in Thailand.
Pray for her to share the love of Jesus with the Thai people.
To explore serving as a cross-cultural witness, complete the short form linked below. A mobilization coach will respond to you and tell you more of the process.