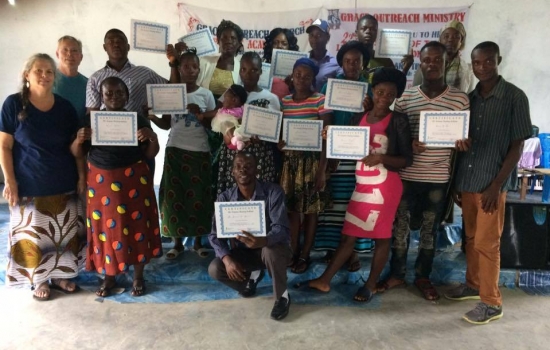 05.21.2019
Rovena was very young when war broke out in Liberia. Her family survived the war, but it took a tremendous toll on them. She watched her mother die during the birth of her younger sister. Her father remarried, and Rovena was very close to her stepmother, who brought stability to the family.
Rovena's father divorced her stepmother, and Rovena was forced to live with him. She was often alone and began to make some unhealthy decisions. After several years, Rovena found By the Light Ministries and began to follow Jesus.
Randy and Pati Walchle, TMS Global cross-cultural workers, served in Liberia and partnered with By the Light Ministries. Randy and Pati met Rovena and learned her story.
"Liberians have been traumatized by the long civil war, Ebola, the lack of education, the lack of trustworthy leadership, widespread corruption, and other factors," said Randy. "Every person has experienced trauma, and there is corruption on every level."
The Walchles began to teach "Healing the Wounds of Trauma: How the Church Can Help," a curriculum designed to address the pain of war, genocide, famine, and widespread disease. The workbook guides groups through 11 lessons about trauma, healing, forgiveness, and how to cope with painful experiences.
Nancy Writebol, a SIM (Serving in Mission) worker who was serving with the ELWA (Eternal Love Winning Africa) Hospital in Monrovia, Liberia, contracted Ebola. She survived, and later returned to Liberia to teach the Trauma Healing classes to Liberians. The Walchles trained under Nancy, and that's how they began to teach the course themselves.
"Rovena was so hungry and thirsty for the Lord that she came to every class that was offered by the ministry," said Pati. "She was the first person to sign up for the Trauma Healing workshop."
At first, Rovena had a difficult time talking about the trauma she had experienced. As she began to open up and share her story, it helped other people in the class share their experiences too. Rovena became bolder about telling her story and began to reach out to other people in her community who had suffered trauma.
"Learning her identity in Christ gave Rovena confidence," said Pati. "She realized how becoming her true self has made her more of a leader to her peers."
The Walchles saw the transformation that was taking place in Rovena and wanted other Liberians to experience healing through Jesus. Randy and Pati enabled Rovena to attend a Trauma Healing Facilitator Workshop so she would be equipped to teach her peers. Pati also met one-on-one with Rovena, and they went through a curriculum called "Soul Healing" together.
"Rovena learned that God can make beautiful things out of her brokenness," said Pati. "I loved having time with her and learning about healing with her. She can relate to other Liberian women and meet them in their place of need because of her experiences."
Rovena is now leading small groups of women through the "Soul Healing" curriculum in her home. She has also connected with Nancy Writebol, who is the worldwide leader of the Trauma Healing workshops. Writebol is training a team of Liberians to teach the Trauma Healing workshops throughout the country. Rovena is training to be a part of that team to bring Jesus' healing to Liberians who have suffered so much, just as she has.
Randy and Pati recently retired from cross-cultural ministry and moved back to the US. "The last two years in Liberia have been the best years of our lives," said Randy. "We were so blessed to witness the transformation that healing through Christ can make in people's hearts."
Next steps:
Pray for Liberians as they deal with trauma, corruption, and living in the poorest country in the world.
Pray for Rovena as she ministers to Liberians and teaches the Trauma Healing workshop throughout the country.
Pray for more people to attend the Trauma Healing workshops, and for Jesus to meet people in their need and heal their hearts.