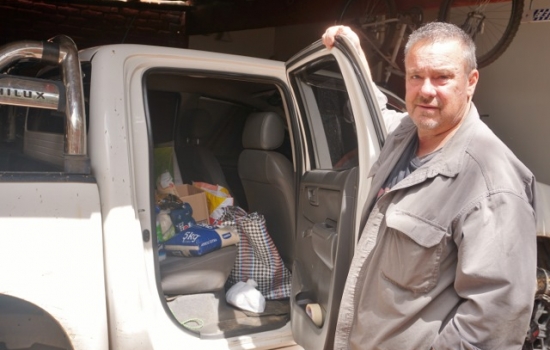 04.14.2020
Tim Goshorn (pictured above) and his family minister in Peru through children's ministry, leading a Bible study in the local women's prison, and hosting a feeding program.
When COVID-19 caused the Peruvian government to enforce a lockdown, many residents were left without the resources to buy food. Tim worried about the children who attend his family's ministry. These children, some of whom are orphans left to fend for themselves, do not have enough to eat under normal circumstances. With their parents out of work and a quarantine in place, many of Tim's neighbors were hungry.
Tim met with the local police and explained the plight of his neighbors. The police gave Tim permission to take food to the children and families he serves. For weeks, Tim has been delivering boxes of food to families in the community.
"One mother called me and said her children had not eaten in four days," said Tim. "I took her some food, and she was amazed that a stranger would help. I told her Jesus is no stranger, and He cares for her."
TMS Global needs to raise $5,000 to provide food for families hardest hit by a loss of income. You can help cross-cultural workers, like those in Albania, Peru, South Asia, and Southeast Asia, who are delivering boxes of food to their neighbors.
Please consider donating $25, $50, or any amount, which will provide a box of food for a family.
Thank you for being the hands and feet of Jesus to your neighbors in developing communities. We are so thankful to be in ministry with you!