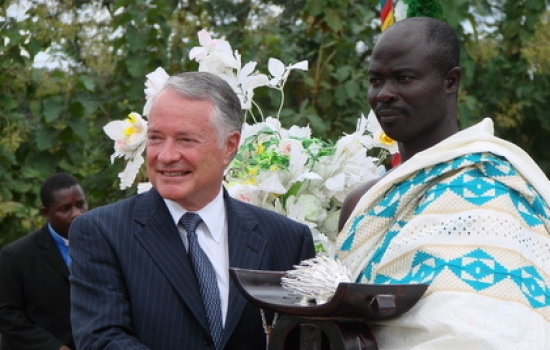 12.16.2008
The long-term impact of The Mission Society was truly evident in a recent celebration and dedication held in Ankaase, Ghana. Begun 20 years ago, The Mission Society and a number of its missionaries have played an integral part in the founding and development of the Methodist Faith Healing Hospital. From very humble beginnings, the hospital now has a staff of more than 100 people, 70 beds, and has helped 110 babies come into this world just last month. Mission Society missionaries, Dr. Cam Gongwer and his wife, Anne, have been living in this village with their daughter, Caylor, for 10 years. Anne's work with literacy led to a seven-year effort to build the Reading Town Library. Kumasi Diocesan Bishop Rt. Rev. Nuh Ben Abubekrh and Bill Goff, chairman of The Mission Society Board of Directors, led a large delegation of church, community, and tribal leaders in thanking God for His faithful work. A beautiful silver and wood trophy was presented to The Mission Society for their many years of dedication and partnership with the hospital.
The hospital is blessed with outstanding local leadership. The Methodist Church Ghana, under the direction of Ms. Gladys A. Odoi, general director of the Board of Social Responsibility and Rural Development, oversees the hospital, while Dr. Richard Amo Tweneboah, Ph.D. recently returned from 20 years in the United States to become the general manager of the hospital. Dr. Gongwer now serves as the medical consultant.
Each day approximately 200 patients come to the hospital seeking treatment for varying degrees of illnesses. Many walk several hours to get there. The hospital is currently soliciting funds to expand its out-patient facility in order to meet the ever-increasing demands. Each morning after staff devotions, the chaplain and others visit every admitted patient and pray with them for healing. Mothers and infants often overflow the maternity ward and crowd on mattresses on the floor. However, everyone leaves knowing more about the love of God. The Gongwer family has had an enormous impact on this small village and on the hospital itself.