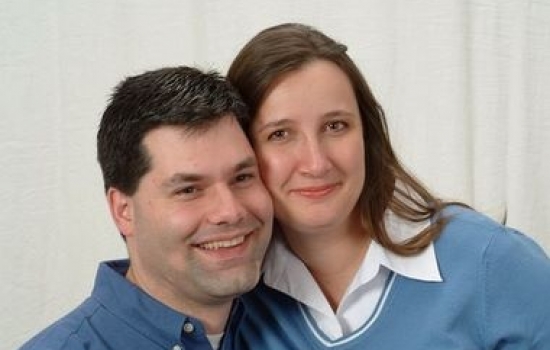 06.25.2011
Michael and Jannike Seward joined The Mission Society team in 2006 and were the first Mission Society missionaries to serve in Zambia. After several years in Zambia, the Sewards relocated to Papua New Guinea. Michael works as an ophthalmologist with Christian Blind Mission. Jannike has a Ph.D. in special education and works with Callan Studies, the teacher education branch of the Callan network of services for people with disabilities. Together, Michael and Jannike have the privilege of serving people with disabilities and offering the love of Christ to some of the poorest of the poor.
In the article below, they recount the story of a woman who received a cornea transplant while they served in Zambia, and how it changed her life.
"This is the story of two stories. First, there is the story of Inonge*. She was a young woman on her way up. She had achieved what most Zambians do not. First of all, she was accepted to high school. Then she found the resources to go. And she graduated. And she was accepted to college. And she found the funding to go there. There was just one problem. She had Keratoconus, a condition that impairs vision by misshaping the cornea. Since her early teens, she had been progressively losing her vision, and now, only a year shy of graduating as a pharmacy technician, she had lost her ability to read.
"The second story is of a man we don't know. He was 62 years old, lived in North Carolina, and died of a heart attack. We don't know what he was doing when he died, who he left behind, or what was said at his funeral. We do know that at some point earlier he had checked the little box on the back of his driver's license and chosen to be an organ and tissue donor. And so it was that his corneas were placed in a small Styrofoam cooler and carried as hand luggage from the United States to Zambia.
"The great thing about corneas is that they don't contain blood vessels; their oxygen comes straight from the air to which they are exposed. This means that when you place a donor cornea in a patient's eye, the body's white blood cells usually don't come in contact with it, and therefore they don't recognize it as a foreign tissue that they might want to reject. Another good thing is that corneas typically stay clear and healthy even as we age, so U.S. eye banks sometimes have more than they need and can donate a few to people in other parts of the world. And this is actually feasible because if corneas are kept cool they will survive for about 10 days, allowing them to travel from North Carolina to Zambia. This is particularly useful because there are no eye banks in Zambia. In Zambia, as in most African countries, organ and tissue donation is not common; it is taboo to deviate from traditional burial rites, and taking body parts is associated with witchcraft.
"So the stories of Inonge of Zambia and Mr. X of North Carolina became one story as Inonge received his cornea, the transplant restoring her vision. On her first visit, a year ago, she had walked uncertainly, slowly. Her last check-up appointment was quite different. She moved around confidently, shoulders back and head up. She had traveled a whole day by bus to make it to her appointment, because now she was no longer a student in Lusaka. She had graduated and was living in the north of Zambia, working in her new job at a pharmacy."
*Pseudonym used.