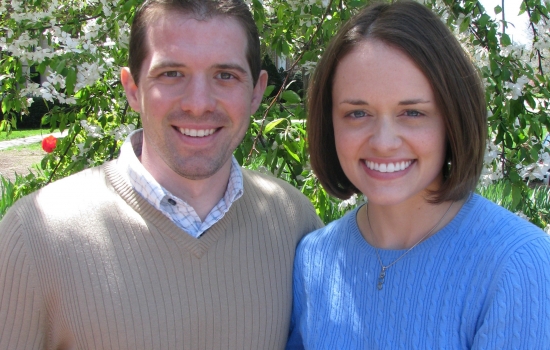 09.18.2011
Tara Dunn, who serves with The University of Georgia's Wesley Foundation, and her husband are currently in the process of adopting a son from Ethiopia. In this article, she talks about her call to adopt and what God has taught her during this journey of faith.
As I started to walk out of the room, I suddenly found myself unable to move. On the television were startling images of orphaned and impoverished children, with eyes void of all hope staring back at me. I immediately started to cry and felt utterly helpless. After all, I was only in middle school; what could I do to help? It was at that moment that God birthed an incredible passion for orphans in my heart, and even though I didn't understand it then, that moment was the beginning of an awakening in my heart to care for the orphan.
Before my husband, John, and I married, we both had a passion to adopt and knew our family would be a beautiful picture of God's many-colored kingdom. For years the passion grew, and then one fateful night in June 2010, God gave me a powerful dream. When I woke up, I knew He was saying, "Now is the time!" After much prayer and wise counsel, John and I moved forward and marveled at His confirmation every step of the way.
As with anytime you step out in obedience to God, the spiritual warfare undoubtedly came. Six months into our journey, it looked as though Ethiopia was cutting adoptions by 90 percent. We stared at a picture of who we knew was our son everyday for four and a half months, with nothing official saying that we could adopt him. The levels of heartache were unlike any we had ever known. I wish I could say that we completely trusted God every step of the way, but there were days when we gave into despair and doubt. Had God called us on this journey and abandoned us? We knew the truth in our heads, but our hearts were incredibly heavy.
As I was in a prayer room one day, God clearly spoke Psalm 112:7 to my heart: "[The righteous man] has no fear of bad news; his heart is steadfast, trusting in the Lord" (NIV). I longed to walk in that truth. I came home only to find an envelope in the mail from a friend. In it was simply an index card with Psalm 112:7 on it. Everywhere John and I went, we heard Psalm 112. It got to the point where we would just look at each other and laugh when we heard it. Out of His goodness, God was reminding us to have no fear, to trust Him completely.
By the time you read this, John and I will have made our first of two trips to Ethiopia. We have been waiting for this first trip for so very long—for the moment when this little boy who has completely captured our hearts will officially become our son. He will no longer be an orphan but will be set in a forever family. He will not become a statistic in his village, where one in four babies are buried a day. He will be a Dunn in every sense of the word. People think that our son will be the one who is blessed, but we will be the blessed ones. We consider it an honor and a privilege to parent this little boy who has already lost so much in his short life, and yet still has so much joy in his eyes.

Has this journey been easy? Absolutely not! And we know the hardest part is yet to come as we wait for the day when all paperwork is completed and we can return to Ethiopia to bring our son home. But would we do it again? Absolutely. We have been adopted by the King of Kings, and what a privilege it is for our family to be a living example of this.