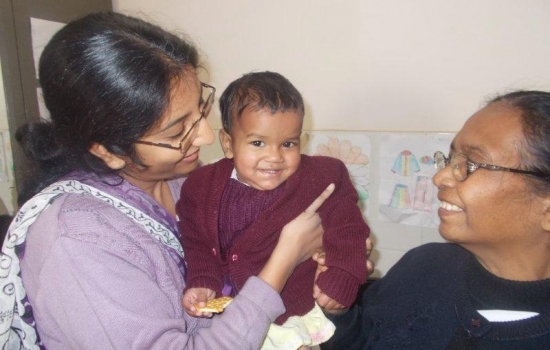 03.07.2013
Judy* is a Mission Society missionary and a nurse who serves in northern India. The hospital in which she works provides medical care for more than 11 million people.
Here she shares with us the incredible story of a baby who was abandoned at the hospital and how God provided for her.
Sharon is a community health doctor who is a strong Christian woman. Because we did not have an obstetrician at the hospital, Sharon was assigned to that department. The obstetric ward delivers between 6,000-7,000 babies each year.
Sharon was completely overwhelmed. She told me she stood there in the middle of that chaotic place and said, "Okay, God. You know I am not capable of doing this. You are the Great Physician. So You are in charge here. I'll be Your assistant. Just tell me what to do." She has had a huge impact on many lives here at the hospital as she has been completely open about her struggles and God's patience and grace.
Sharon and her husband have been married for seven years and have not been able to conceive. They were interested in adopting a child, which had to be delayed because of their separation. Sharon was asked to work at our hospital as part of a service requirement after medical school. Her husband still had a year of medical school remaining, so they have had to live many hours apart this year. Sharon said that she was mad at God for requiring this of her, but she submitted to His will.
Six months ago we found an infant girl abandoned in the hospital courtyard. She was malnourished, slowly starving to death, and very ill. She was left on the ground outside our administration offices early in the morning, so she was discovered quite quickly when staff and patients began arriving. She must have been a normal healthy newborn because she began to bounce back to health rapidly once she was being fed and cared for.
We are quite sure that her mother loved her; otherwise the baby wouldn't have made it as long as she did. Many mothers abandon the infants or throw them away immediately after birth. Often, women (rich and poor) are encouraged to abandon their female newborns. Many are actually punished for having a girl and not given any food themselves for days.
I think that this baby was breast fed as long as her mother had milk. But the mother probably had very little to eat herself so her milk would not have lasted very many weeks. She was probably not allowed to take any communal food to feed the baby and was watching her slowly die. We believe she brought her to our hospital in the hope of saving her daughter's life.
The nurses named the baby Ruby, and she lived in the hospital with the other abandoned children.
Sharon and I started visiting the "hospital kids" (the children who are abandoned at the hospital) a few months ago. Sharon fell in love with Ruby. She and her husband were very excited about the possibility of adopting Ruby. However, she discovered that Ruby was already spoken for by a young family. She was disappointed but decided that God had a different plan.
Just a few weeks ago, I was talking to the hospital administrator, and he said that the family decided not to adopt Ruby after all. I told him that Sharon was interested in adopting Ruby. He immediately ran down the sidewalk after Sharon to tell her the good news.
Sharon exclaimed, "God is so incredibly good! This is why I had to come to this hospital. Ruby was waiting for me." Sharon's husband was even more excited. In tears, Sharon told us, "I never thought that I could ever bring such joy to my husband with just one sentence!"
Sharon and her husband decided to keep the name "Ruby" for their daughter. "That's how we think of her – a beautiful, precious gem!"
*Pseudonym used for security purposes.