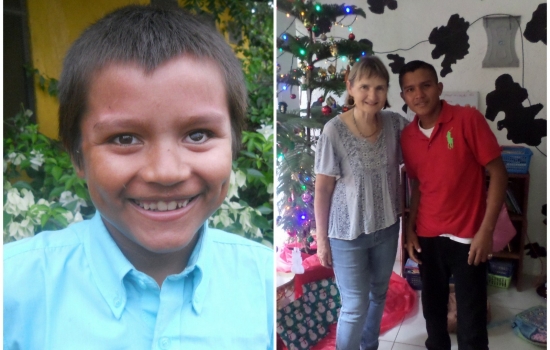 04.19.2018
José was eight years old when he lost his eye in an accident. He lives in a small village called Kayaskita, Nicaragua and his family struggles to make ends meet.
When José had the accident, his grandfather, Simeón, took him to a nearby clinic. José was transferred to three other clinics before arriving at a medical facility that had the capability of removing his eye. Simeón stayed with José the entire time, and they arrived home more than a week later.
"My father had to sell four cows to pay for the medicine, surgery, and expenses from the trip," remembers José. "When I got home, everyone was very sad. My mother cried all of the time. I could not see very well with only one eye, so I stayed inside and did not go out to play with my friends. I lost a lot of weight. Some kids called me 'one-eyed,' so I tied a rag around my head to cover my missing eye."
Simeón met TMS Global cross-cultural workers, Ronnie and Angi Hopkins, who serve in Nicaragua. Simeón asked the Hopkins about the possibility of obtaining an eye prosthesis for José. Through the Hopkins' ministry, funds were donated and José traveled to Managua to receive a glass eye.
"Ronnie and Angi and those who support their ministry provided absolutely everything for me!" said José.
José's confidence increased after he received his eye prosthesis. He attended elementary school and was at the top of his class. He no longer felt as if he needed to hide indoors.
"Receiving the eye prosthesis changed my life!" he said.
José is now 17 years old. He attends high school in another village. He leaves for school at four o'clock in the morning, travels by horseback to the river, takes a boat, and then walks for two-and-a-half hours. Classes begin at 7:30 a.m. and end at 3:00 p.m. Then José travels back home.
José plans to attend college and wants to study English and business administration. He excels in math and wants to be a teacher as well as a translator.
José is one of the students in Ronnie and Angi's youth leadership program. The Hopkinses designed a one-year course for students who show potential and want to learn more about leadership. The students, ages 16-26, engage in a variety of activities to learn about leadership and responsibility. These include public speaking, creating a resume, being mentored, having a daily devotional time, setting short-term and long-term goals, and volunteering community service. The Hopkinses currently have youth leadership programs in seven different communities throughout Nicaragua.
"The classes have helped me to grow spiritually," said José. "I have learned to help my family and to be responsible."
In addition to these youth leadership programs, the Hopkinses, through donation by their supporters, started a medical clinic in Kayaskita. They have also worked with communities along the Rio Bocay to build schools and provide access to clean water.
"We meet with the community leaders and find out what they need," said Ronnie. "We work together to provide for the people of the Rio Bocay region. The residents provide the labor, and our supporters provide the funds."
"It is a great blessing to have a clinic in our village," said José. "Now we also have clean water. My mother used to walk 20 minutes to a creek to get water. It was not always clean. We used that water for drinking, to wash clothes, to cook, etc. Other families had to walk a much greater distance. With this water project, many families have benefitted."
"When I think about all that has happened in the Rio Bocay area, and to me, I am very grateful to God and to our North American friends for so much help" says José. "God is good!"
Photo: (Left) José just after receiving his eye prosthesis. (Right) José and Angi at a youth leadership Christmas event.