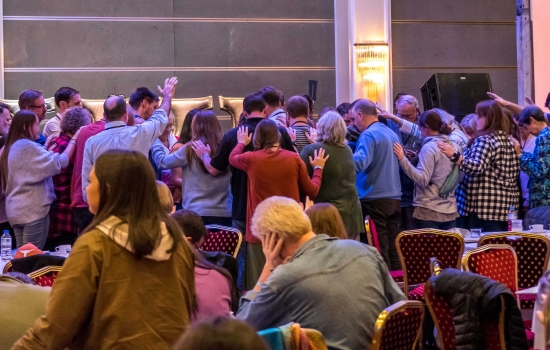 02.17.2020
It's mealtime at a resort on a European coast. Outside, the waves break and foam along the shore. Inside, people who make their homes around the globe have gathered at tables and are comparing notes on cross-cultural living. Conversation includes contrasting food in South America verses Asia. There are stories about driving regulations in Kenya. (It turns out you can't get a license until you are 18 years old). People discuss the joys and challenges of setting up a home in a new country, new friends they are making, or how their kids are doing in school. This is the TMS Global Gathering. For the second time in our organization's history, many of our cross-cultural workers are gathered in one place to experience personal and professional development, refreshment and renewal, and reconnect with the organization and with each other.
Jim Ramsay is the vice president for global operations. He says the event allows for cross-cultural workers to connect with others and share ideas. "The relational aspect has always been an important part of TMS Global," Ramsay says, "and the Global Gathering puts it on steroids." He points to a group at a table in the resort coffee shop. "See, four countries represented right there, sharing ideas."
The gathering's theme is "Wind and Reign." While participants meet to worship and learn, rain beats against the roof, waves crash on the shore, and trees bend in the wind. It's fitting weather for a week of studying the story of Paul getting shipwrecked in Acts 27.
Becky Stephen is the senior director for global engagement and led the content team. She says they wanted people to go on a journey like in Acts 27. In that story, the ship's passengers realize they are in trouble, receive a promise, and eventually end up on the shore with no loss of life. Stephen says it was the flow of that story that informed the program.
The gathering offers space for those feeling shipwrecked to receive counseling and spiritual direction. Jennie Wheaton is a mobilizer for TMS Global. She says it can be hard to ask for help when serving, so the gathering is a good time for people to see the resources they have, for people to feel normal, and know that what they're experiencing is normal.
The gathering also offers space to help third-culture kids (TCKs) feel normal. Jim Ramsay says TCKs are one main purpose for the event, and it would be worth gathering if only for them. Vicki Decker, Shawn Ramsay, and Paige Kolb are coordinators of TCK care. Shawn Ramsay says the programs for the kids are very intentional. "We want three things for the kids," she says. "To get to enjoy being with other TCKs and have fun, for the kids to be able to connect face to face with myself and other TMS Global staff and workers, and for them to learn and have space to grow in their relationship with God." Ramsay works with the elementary-age kids and says the program includes Bible lessons, play time, and snacks. "We want the kids to feel like this is a safe space and for it to be structured enough that it is not a free-for-all chaos, but it is also not school with strict behavior expected. The kids are more important than the program."
Nearly 80 children took part in the TCK events, from ages 0-to-18 years old. One of those kids is Hannah Grace Attaway. She participated in the teen program. She says the Global Gathering is a nice time to see friends she's met at other gatherings and to catch up again. "I think it's been very helpful that I have people I can talk to," Hannah Grace says, "and it's safe for everybody to talk, and we're just like a family."
Her parents, Todd and Pam Attaway, are regional mobilizers with TMS Global and were previously cross-cultural workers in Thailand. Pam says the TCK program creates an inclusive environment. She says the kids can often feel excluded because they have different life experiences, but the gathering allows them to feel accepted and be around others who "get it."
Jim Ramsay says the event gives people the chance to realize they are not alone. "The body of Christ is a beautiful thing," Ramsay says. "And I want people to experience the breadth and depth of it." He says with all the cross-cultural workers, staff, and guests in the same room, "good things are going to happen."