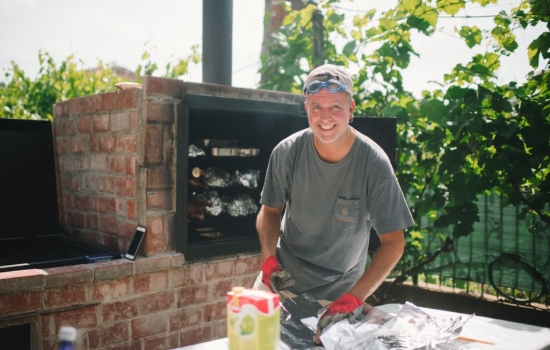 08.24.2020
Chad and Hollie Wells and their three children moved to Albania less than a year ago. After only six months in the country, the global pandemic began to spread to their region, and the Albanian government enforced a strict lockdown.
"Like many places in the world," said Hollie, "most people in Albania are day laborers. Not being able to work means there is not enough money to buy food."
Chad and Hollie asked local ministries how they could help families who were struggling to meet basic needs while in lockdown. The ministries had an urgent need for food.
A few months before the pandemic hit Albania, Chad dreamed of a design for a smoker he could build in their backyard. He sensed an urgency from the Lord, so Chad hired several people and together they built a large smoker.
When the lockdown began and the local ministries asked for help providing food, the smoker was ready. One of the Wellses' supporters donated money to help them purchase meat. Chad smoked 40 chickens at a time and was able to provide the local ministries with enough food for 190 families.
"Not only were we able to provide food for people in need, but it was a great encouragement to these ministries that are working so hard to serve people under difficult circumstances," said Hollie. "Many of the families expressed gratitude and were touched by the fact that they were given a hot, nutritious meal."
Thank you for continuing to pray for our cross-cultural workers and people all around the world who are struggling with the impact on the pandemic.
Please pray for people who do not have enough food.
Pray for people who are out of work and unable to care for their families.
Pray for people who are ill and in need of medical care.
Pray for our cross-cultural workers who are adapting their ministries because of the pandemic. Pray for relationships, health, and finances to all remain strong.