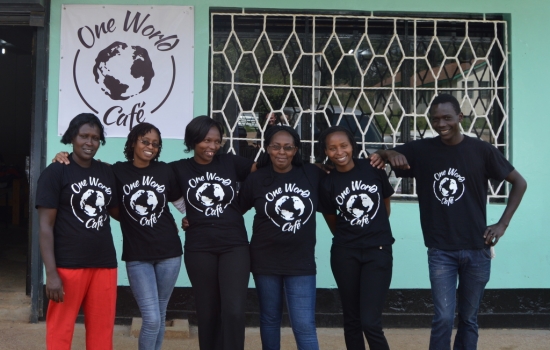 02.27.2018
Peter was orphaned at a young age when both of his parents passed away. He was placed at the Home of the Good Shepherd, a children's home founded by Kenyan pastor Simon Thou Mwaura and his wife, Lucy. The home is the residence for more than 65 children near Nyahururu, Kenya. Most of the children residing at the home have been orphaned due to HIV/AIDS, tribal clashes, and other factors.
At Good Shepherd, Peter experienced a loving family and the staff shared with him the stories of Jesus. Peter grew up at the home, attended school, and excelled in his classes. He recently graduated from high school and is pursuing a degree in mechanics.
Mark and Kenzi Fogleman, TMS Global cross-cultural workers, serve alongside the Mwaura family. The Foglemans recently opened One World Café in Nyahururu. The café serves coffee, pizza, hamburgers, and other items. Proceeds from the café support the Home of the Good Shepherd. Youth who live in the home can be employed by the café, which generates income for the organization and provides necessary job training as they age out of the orphanage.
Peter was chosen to join the staff of the café because of his strong work ethic and dependability. Having work experience will be essential as he graduates from the children's home and moves out on his own. Peter wants to own a spare parts shop in the future, which will sell vehicle and machinery parts.
"The café was designed to do more than provide financially for the children," said Kenzi. "It serves as a location for discipling relationships to form and grow."
Mark is currently discipling two Kenyan youth, and the three of them meet at the café regularly to drink coffee, study the Bible, and discuss what following Jesus looks like in their context. A men's group from a local church also meets at the café, and a women's Bible study group has met there as well. The café's staff has regular devotional times together as they seek to grow in their faith.
"Children who have lost hope can experience a loving family, receive an education, and find the support to achieve their dreams at Home of the Good Shepherd," said Mark. "We want these kids to have the resources they need to become all that God has called them to be."
To see a video of the café's opening day, click here.