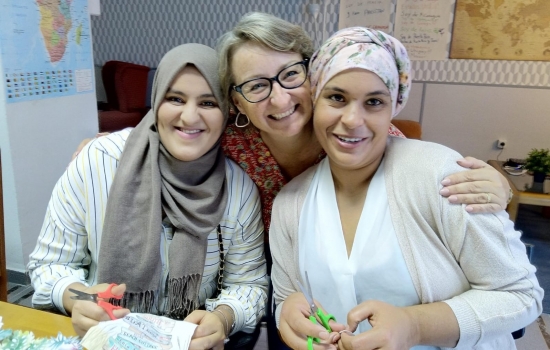 12.13.2019
Nahla* left her home and life in the North African country where she is from and immigrated to Spain. Nahla speaks Arabic and is trying to learn Spanish so she can communicate in her new home. While life was not easy in her home country, it is also very difficult in Spain. Not knowing the local language, being alone, and a climate of xenophobia make starting over in a new country a daunting task.
"Spain has become the number one European entry point for refugees and asylum seekers in the past year," said Billy Drum, a TMS Global worker in Spain. "While the Spanish government and the EU are scrambling to meet basic needs, our team and church are reaching out to fill in gaps and help welcome people into our community, into relationships, and into a new 'normal.' As we walk alongside our new neighbors, their main need and desire is for acceptance, belonging, relationships, and a place to call 'home.'"
Refugees and immigrants are placed in one of several relocation housing centers in Antequera, Spain to await the processing of their paperwork and be given refugee or asylum status. These centers are strictly housing and meal centers. Refugees walk their children to school each morning, try to find a warm place to rest until they can pick up their children in the afternoon, and walk back to the relocation center.
"In the past several months, our TMS Global team in Antequera has become more and more involved with the refugee community here in Spain," said Billy. "We dreamed of starting a community center to give refugees a free and safe place to hang out, to meet people, and to practice new language skills."
Together with a local pastor, the team founded La Mesa Turquesa (The Turquoise Table) Community Center last April. La Mesa is open all day in order to give refugees and asylum seekers a safe, warm, and dry place to wait during the day. Coffee and tea are available, as well as free WiFi so they can communicate with family from which they have been separated. On Friday nights, the team hosts game nights and activities for anyone in the community. Local volunteers teach skills, lead crafts, hold mini-music concerts, share international foods, and build community.
On a typical Friday night, you can find refugees from Russia, Georgia, Syria, Nigeria, Somalia, Morocco, Pakistan, Mali, Venezuela, and many other countries playing Uno, Parcheesi, and chess, watching the news, laughing and talking, and sharing snacks together.
Nahla refused invitations to come to La Mesa at first. Timid and embarrassed by her language skills, Nahla felt alone. Amira is from the same country as Nahla and speaks Arabic. Amira invited Nahla to La Mesa and, little by little, she has begun to open up and enjoy the community.
"She regularly thanks us for having the center and for inviting her," said Laurie Drum. "Just yesterday, she threw her arms around me, gave me a huge hug, and said, 'Te Quiero' (I love you).
"This is why we are here. So that refugees who have lost everything can feel 'at home' at La Mesa Turquesa. So we can be the hands and feet of Christ, sharing life with people who need to know Jesus' love."
*Pseudonym used for security.
Next steps:
Pray for the more than 70 million refugees and displaced people who have left their homes.
Pray for the TMS Global team members in Spain who are ministering to refugees through La Mesa Turquesa: Billy and Laurie Drum, Ryan and Kat Marcum, and Axel and Delilah Agosto.