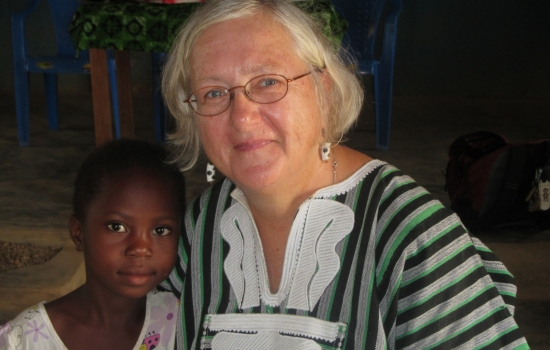 06.20.2017
Sue Kolljeski serves in northern Ghana, West Africa. She co-pastors Kalsagri and Kunyukuo churches and teaches reading skills to preschool and elementary-aged children. Sue previously led a ministry to disabled children, which is now run by nationals.
Life in these remote villages is hard; futures for young people can seem bleak. Here, Sue describes the hope God placed in her for one young girl.
After church one morning, I was talking to people in the congregation when a young girl approached me. "Will you be my friend?" she asked.
As we talked, I discovered her name was Akosua. In Ghana, children are named by the day of the week on which they are born. Akosua is the name given for a girl born on Sunday. She handed me a black plastic bag filled with a handful of groundnuts and asked me to give her a Christian name.
I replied, "Come back next week. I will pray and ask God what name He has for you." She agreed and walked home.
I began praying, "Lord, what is Your name for this young girl? I want her to know Your love, Your protection, Your strength, and Your mercy. I want her to know that even though she is from the village of Kunyukuo, she can have hope and a future."
All week I continued to pray for Akosua's Christian name. God continued to impress the story of Esther upon my heart.
The next Sunday, Akosua returned to church. I told the congregation the story of Esther—how she was an orphan, was chosen to become queen, and ultimately saved her people. I told Akosua that I believed this was the name God had chosen for her.
Although life in Kunyukuo is very difficult, God is the author of bright futures. He can make anything possible and, maybe one day, Esther will be an instrument of change in her village.