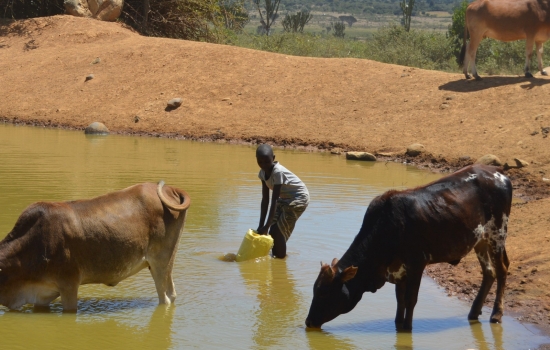 10.28.2019
Susan used to walk three-to-six kilometers each day to fetch water for her family. As a young woman, it was her responsibility to collect enough water for her family and their animals. As members of the Turkana tribe, Susan's family raises livestock and makes their home in the dry region of northern Kenya in the Magomano village.
The long walk to collect water often kept Susan out of school. The climate is very hot in northern Kenya, and the area is prone to droughts. Susan would walk to the local water source at least twice a day to collect enough water for her family. They used the water to drink, cook, bathe, wash clothes, and water their animals. The animals and people used the same water, which was very unclean and led to a lot of illness and disease.
Mark and Kenzi Fogleman live and minister in Kenya with their two children. An engineer by trade, Mark helps communities gain access to clean water. Mark and Kenzi began to meet with people in Magomano and ask questions about what the community needed in terms of water.
The Foglemans established a water committee which included members of the local school board, village elders, the area chief, and community members. Magomano and the surrounding villages have more than 2,000 residents, and more than 500 children attend the local primary school.
"We work with the water committee to determine the most sustainable water source for both rainy and dry seasons," said Mark. After listening to residents and surveying what water sources were available in the area, the Foglemans suggested that a deep well could be drilled near the primary school. Mark and Kenzi's ministry partners donated money for the well, and the couple applied for and was awarded grants.
Mark and Kenzi coordinated the project that included a deep well, storage tanks, and a kiosk where the community purchases the water for a small fee. The Foglemans also had a distribution system built that supplies water to the school kitchen, and new sinks were installed. A water trough was built for the community's livestock. Any money collected from residents is used for repairs to the well and other facilities. Mark and Kenzi also purchased 60 roller drums for the community to use, which are 50-liter water containers that roll.
With the roller drum, Susan has a much shorter walk to the new well and only must fetch water once a day. "I am not as tired as when I had to walk long distances and carry heavy containers of water," said Susan. "I have more time in school, and we have cleaner classrooms now. Thank you to everyone who helped us to have clean water!"
"People can grow fruits and vegetables for their families near their homes now," said Kenzi. "It was too dry before, but now people can water their crops. We also work with locals to teach people best practices in hygiene and sanitation. We want to see long-term improvements in the health of residents now that they have access to clean water."
"As we meet with members of the community, we are able to share our faith with them," said Mark. "Water projects are a passion of ours because we are able to love and empower our neighbors through practical means. We are blessed to be a blessing, and it's an honor to be a voice for the voiceless and address the issue of clean water together."
One in 10 people lack access to clean water globally (663 million people).
Diseases from unclean water kill more people every year than all forms of violence, including war. Forty-three percent of those deaths are children under five years old.
Access to clean water improves health, lessens time spent collecting water so children, especially girls, can go to school, and parents can spend more time working to earn an income.