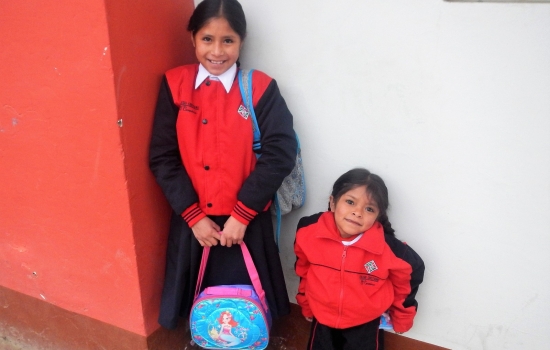 10.24.2018
When Tim and Jennifer first met Zumilinda, they had no idea that this young girl would forever change their lives. The Goshorns live in Huancayo, Peru, ministering to children in the area and to inmates at a local prison.
Each week, they welcome 90 children from a very poor community for a meal and Bible story. The children rarely have enough to eat as unemployment and alcoholism plague their families. But as they gather in a field, the kids play, enjoy a warm meal, and hear stories of Jesus and His love for them.
Tim and Jennifer met Zumilinda when a doctor treated the six-year-old girl. This doctor travels to remote areas to treat patients, and Zumilinda's family lives more than six hours into the jungle. Their town is located in a "red zone," where drug and terrorist activity are present.
Zumilinda was suffering from neurofibroma and malnutrition. At age six, she weighed only 23 pounds. This had led to her bones, heart, and lungs becoming weakened.
The doctor brought Zumilinda to the Goshorns in hopes that they would be able to find her more advanced medical care. While talking with Zumilinda's mother and older sister, Tim discovered that they believe in Jesus. Tim gave the sister a Bible and the mother a solar-powered audio Bible because she is illiterate.
"To be honest," said Tim, "I thought providing this family with the Word of God was the only reason we came in contact with them. When I looked at Zumilinda, I knew her issues were too big for us to handle. After spending time with her and praying about the situation, I knew that her issues were not too big for God."
The Goshorns arranged for Zumilinda to spend 10 days in Lima, to have a series of tests to determine if anything could be done to help her. After the tests were performed and many doctors examined Zumilinda, they gave the Goshorns the devastating news that there was nothing they could do in Peru. They expected Zumilinda to live only another two years. One of her lungs had collapsed, and this was causing a lot of pressure on her heart.
Tim and Jennifer took Zumilinda, who is now eight-years old, and her 11-year-old sister, Luzmilda, into their home. They were granted legal rights to care for the children and make decisions about their medical care. Zumilinda and Luzmilda were enrolled in a Christian school in Huancayo and are thriving in their new environment.
"They are so very happy, and they won't eat now without praying," said Tim. "We know what the doctors said, but we also know Zumilinda is in God's hands. Our goal is for Zumilinda and Luzmilda to have a relationship with the Lord and enjoy life. We've seen a huge difference in the girls since they moved in with us. They are getting food on a regular basis, have a warm bed to sleep in, and they love going to school. We feel that Zumilinda can have a long life if that's the Lord's plan."
Next steps:
Pray for Zumilinda and Luzmilda, that they would know Jesus as Lord and experience healing in their lives.
Pray for Zumilinda's healing.
Pray for the Goshorn family as they care for the girls.