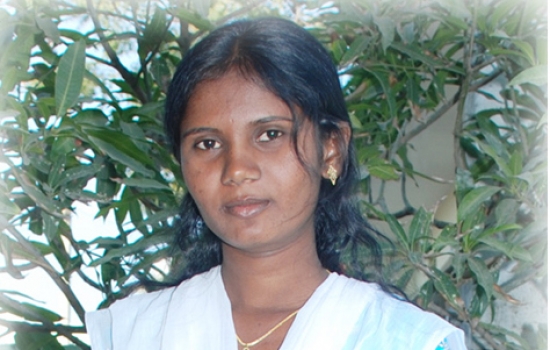 04.21.2014
Peter and Esther Pereira, who are originally from India, ministered cross-culturally in Illinois before returning to their homeland in 1992. They live in Hyderabad, India where they founded and run the ministry Hope for Today. In addition, they also work with women and children through the Alpha Schools and Alpha Homes, a vocational training center, medical camps, and a nutritional feeding program.
Here, the Pereiras share the story of a young girl who was raised in an Alpha Home. Hear her inspiring story and witness the difference Christ made in her life through this ministry.
When Mounika was nine years old, her father was murdered. He left behind his wife, Mounika, and her two brothers. As the only breadwinner of the family, the father's death caused a great economic hardship on the family, as well as the grief they experienced.
Mounika's mother worked hard in the fields, but there was just not enough food for a family of four. A daughter in India is often considered a burden because the family has to pay a dowry to give her a good marriage. Because the family did not have enough money or food, Mounika was given away.
Mounika was taken into the Hope for Today Alpha Home, where she was raised as a member of the family. She was always provided with food, clothing, an education, and medical care. Mounika recently completed college and has started working at the Hope for Today office.
A child who was discarded and could have experienced a very tragic end to her life was rescued thanks to sponsorship and love from the Hope for Today family.
Mounika said, "I want to be instrumental in helping other children in need so the next generation can also be educated." Praise God for His providence in helping these children!