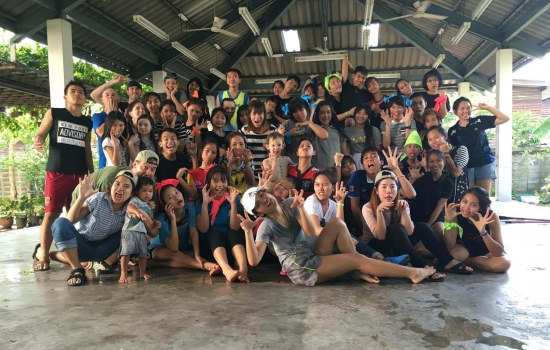 07.19.2016
Todd and Pam Attaway and their children serve in Roi Et, Thailand with a Mission Society team. They teach conversational English and disciple students in their faith. Here, the Attaways describe an incredible experience at camp with 37 Thai students.
Each summer, our team in Roi Et, Thailand takes a group of students to an academic camp in Bangkok for four weeks. The camp provides students a chance to work on their English skills and other subjects during summer break. Although the camp is primarily academic, the leaders are Christians and we share our testimonies with the students, have times of worship with them, and spend time building relationships with the kids.
This was the 23rd annual camp and it always has a big impact on our students' lives. This year, 37 students came with us to study the topics of education, family, finance, and careers. As we taught these lessons, we wove in our personal testimonies about the ways in which God had worked in our lives related to these issues. Over and over, the students heard testimonies of God's faithfulness and how God can guide our steps in each of these areas. The speakers included teachers, doctors, business owners, youth leaders, young couples, single Thai men, and people from all walks of life.
Each morning, we began the day with worship, including a praise band and a devotional thought by one of the speakers. Easter Sunday fell during the camp, so we attended Good Friday and Easter celebrations with our students at Muang Thai Church. We also took the students to see the movie Risen. Through all of these events we could sense God moving in the students' hearts.
The final Sunday of camp, Pastor Life gave an invitation for those who were interested in opening their hearts to Jesus. Two people from the congregation stood, but almost all of our students from Roi Et students stood up, claiming their desire to know Jesus! It was an incredible moment for us to see the Lord at work.
For months we have prayed that God would bring hundreds of people in Roi Et to know Him as Lord. It is a bold prayer as most Thai are Buddhist and their faith is a part of their culture and traditions. If these 30+ students are discipled, grow in faith, and share their faith with someone else, then more than 70 people will have heard the gospel message. As the process of evangelism and discipleship repeats itself, more and more people will hear the good news of Jesus. Literally hundreds of people in Roi Et could come to faith in Jesus! It's an ambitious goal, but we serve a big God Who is at work in Thailand.
Please join us in prayer for hundreds of believers in Roi Et, and for these 37 students to hear more about the gospel and the good news of Jesus. God is good and He deserves all the glory.