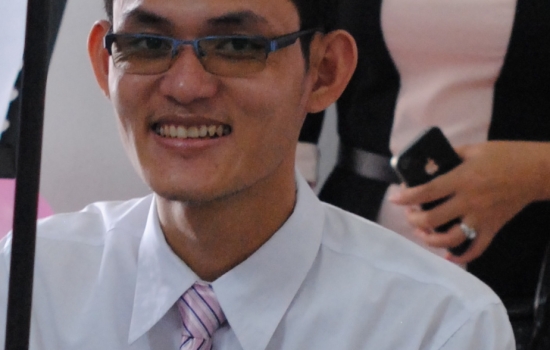 05.14.2013
Jamie and Holle Wollin and their two young sons serve with The Mission Society in Cambodia. They are currently in language school in Phnom Penh. Here, they share a story about a Cambodian man whom Jamie disciples and how this man's life was transformed by Christ.
"Zach is a teacher in The Learning Lab, one of our ministries, and is a wonderful man," writes Jamie. He and Zach meet together each week to study the Bible and grow in faith.
Last year, Zach was beaten very badly one night as he was walking home. It was a case of mistaken identity.
Zach was in a great deal of pain in the weeks following the attack. The bone in his arm had been badly fractured. Zach spent nearly all his saved money to go to a local doctor who ended up hurting his arm even worse.
After that incident, Zach was in bad shape physically, emotionally, and spiritually. He needed prayer. He told Jamie that he needed to see that God would protect his life. Jamie and Holle prayed with Zach.
"Soon after we prayed with Zach," Jamie writes, "a Korean missionary who is an orthopedic surgeon living in Cambodia came to us. He checked on Zach and said that surgery was not a good option at this point as his bone had started to fuse back together in a bad position. The doctor decided to do physical therapy with Zach and connected him with other physical therapists who helped him as well."
Last month, Zach went back to the orthopedic surgeon for an x-ray, which showed that his bone has fused back 99% correct. He has full articulation of his arm now and feels no pain.
The beauty in this situation is that Zach is a changed person. He carries now a quiet confidence and gentle spirit that has been crafted by the loving hands of God. Zach tells that he is thankful that God allowed him the joy of knowing this suffering. "When we study the Bible together," says Jamie, "Zach sheds quiet tears and smiles when he listens to the stories of scripture – the great story of Love, a Love Zach now knows quite well."